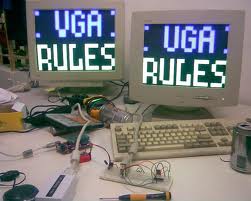 the Digital Soil[ed]
December 10, 2009
link to full programme details here
this FOO_bar we will focus on our digital footprints in more-or-less analog soil, with a presentation of the Network Insecurity workshop by Danja Vasiliev and Julian Oliver, the final (or is it still beta?) release of our Web_2.0_SuicideMachine with Gordan Savicic, a live/compact workshop for generating VGA signals on a PIC-chip with Arjan Scherpenisse (bring yr own lo-res img's!) and we will have a look at the Gamuza project with developer Emanuele Mazza, who will discuss the ins&outs surrounding this open-source Computer Vision application.
Furthermore a presentation by Julian Oliver on his recent work and finally a performance by Bluegrass Techno band MICRO-PHOBIC from San Antonio, Texas…
VGA-TESTER WORKSHOP
By using the very simple and cheap PIC Microchip micro-controller it's possible to generate signals. With these signals you can display all kinds of pixel patterns on any VGA monitor or beamer. During the workshop participants will create their own "VGA test box" that will make it possible for you to do the same.
To sign up for this mini-workshop by Arjan Scherpenisse send an email to workshop@moddr.net
NETWORK[IN]SECURITY PRESENTATIE
presentation of results and occurrences from this workshop by Danja Vasiliev and Julian Oliver.
Borrowing tools and techiques from the field of network (in)security, Danja and Julian will expose the otherwise invisible layer of Wifi activity as a rich space for activism, performance, paranoia and audiovisual practice.
WEB_2.0_SUICIDEMACHINE RELEASE!
Screw your newbie friends with a collective Web2.0 suicide! We have conjured up a machine that lets you delete all your energy sucking social-networking profiles, kill your fake virtual friends, and completely do away with your Web2.0 alterego. The machine is just a metaphor for the website which moddr_ is hosting; the belly of the beast where the web2.0 suicide scripts are maintained. Our services currently runs with facebook.com, myspace.com and LinkedIn.com!
COMPUTER VISION WITH GAMUZA
Gamuza is an open source tool based on OpenFrameworks, designed for prototyping and development of interactive installations using contemporary video tracking techniques.
Making code and coding easier, Gamuza can be used like a standalone application or a platform of code to start from. Processing and PureData clients communicate with Gamuza through OSC protocol, offering different approaches and working strategies.
MICRO-PHOBIC
Bluegrass Techno band from San Antonio, Texas